Tom's Veggie Stuffed 3-Egg Omelet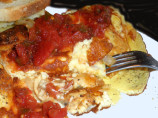 Photo by Bergy
Prep Time: 20 mins
Total Time: 30 mins
Yield: 1 omelet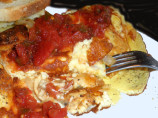 Photo by Bergy
About This Recipe
"Candy really wanted a veggie omelet this morning so Tom came to the rescue. This was WAY too good not to share!"
Ingredients
3 eggs

1/2 cup cheddar cheese

1/3 small onion ( chopped)

1/3 small tomatoes ( skinned and chopped)

5 mushrooms ( Sliced)

1/4 teaspoon salt

1/4 teaspoon onion powder

1 1/2 teaspoons garlic powder

1/2 teaspoon paprika

salsa, if desired
Directions
Filling:.

In a medium frying pan, add tomatoes, onion, mushrooms, 1 teaspoon garlic powder, and 1/2 teaspoon of paprika.

Saute over medium heat until the onions are translucent.

Keep hot till eggs are ready.

Omelet:.

Mix eggs, salt, onion powder, and 1/2 teaspoon garlic powder in bowl.

Heat a well oiled frying pan over medium heat for 2 minutes.

Pour mixture into pan.

Move pan to shape mixture into an even circle.

If an large bubbles should appear while there is still liquid mixture, pop bubble using knife.

Once cooked approximately 1/2 way through, flip eggs using large spatula.

Immediately add 1/2 cup of cheddar cheese, spread evenly.

When cheese starts to melt, use spatula to slide eggs to a plate.

Stack filling mixture on 1/2 of the circle of eggs while filling is hot.

Using spatula, carefully close the omelet, hold closed till the filling melts the cheese.

Top with salsa, if desired.

Note: I used Leah's Easy Food Processor Salsa for the salsa on top -- YUMMY!