Santa Fe Chicken Salad (Applebee's)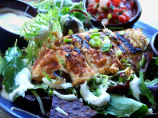 Photo by NcMysteryShopper
Prep Time: 15 mins
Total Time: 12 hrs 15 mins
Servings: 1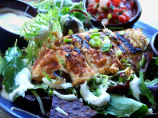 Photo by NcMysteryShopper
About This Recipe
"Do not let the list of ingredients keep you from making this salad. Most of the ingredients are for the marinade and salsa which should be made the day before and refrigerated. The remaining ingredients are the salad and side items. It is super quick to throw together the next day and tastes awesome. The tequila-lime chicken is outstanding on its own and you may want to make extra Pico de Gallo to keep in the fridge. I have adapted this recipe from a former Applebee's employee. The recipe is scaled down for one serving, so adjust for more servings. Cooktime is marinade time."
Ingredients
Tequila-Lime Chicken Marinade

2 tablespoons gold tequila

1/4 cup freshly squeezed lime juice

2 tablespoons freshly squeezed orange juice

1 teaspoon fajita seasoning mix

3/4 teaspoon minced fresh jalapeno pepper ( seeded)

3/4 teaspoon minced fresh garlic

1/4 teaspoon kosher salt

1/4 teaspoon fresh ground black pepper

1 boneless chicken breasts, skin on or 1 boneless skinless chicken breast

Pico de Gallo

1 small tomatoes, diced

1/2 small onion, diced

1 -2 teaspoon diced jalapeno ( we like more!)

1/8 cup fresh cilantro ( diced)

1/2 teaspoon salt

1/8 teaspoon black pepper

1/8 teaspoon garlic powder

1 teaspoon olive oil

1 teaspoon white vinegar

Dressing

Garnish

tortilla chips (multi-colored or regular) or corn tortilla strips ( multi-colored or regular)

chopped scallion, sprinkled on top

1 ounce sour cream ( ramekin at 9 o'clock)

1 ounce guacamole ( ramekin at 3 o'clock)

2 ounces pico de gallo, recipe above ( ramekin at 12 o'clock)

Salad Ingredients

3 -4 cups torn salad greens

1/8-1/4 cup shredded monterey jack cheese or 1/8-1/4 cup shredded cheddar cheese
Directions
Combine marinade ingredients in a container with lid. Add Chicken and place in refrigerator overnight.

Combine Pico de Gallo ingredients in a small bowl with lid and place in refrigerator overnight with chicken.

Remove chicken from marinade and sprinkle with fajita seasoning. Grill skin-side down for about 5 minutes, turn and continue to grill for about 10 minutes or until chicken is cooked through. I use my George Forman grill with fantastic results (about 7 minutes).

While the chicken is grilling combine ranch dressing with 2 Tablespoons of the Pico de Gallo. Set Aside.

Prepare Garnishes.

Toss salad greens with cheese and remaining Pico de Gallo (or less - to taste). Sprinkle with fried tortilla strips or lightly crushed tortilla chips.

Cut chicken into strips and place on top of greens. Add Garnishes to plate.