Chinese Broccoli With Ginger Sauce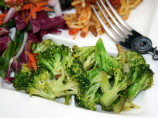 Photo by **Tinkerbell**
Prep Time: 5 mins
Total Time: 10 mins
Servings: 4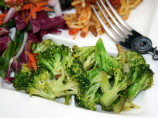 Photo by **Tinkerbell**
About This Recipe
"Lee Wan Ching's Chinese Broccoli with Ginger Sauce Excerpted from The Breath of a Wok: Unlocking the Spirit of Chinese Wok Cooking Through Recipes and Lore by Grace Young."
Ingredients
12 ounces chinese broccoli ( 6 medium stalk)

1/4 cup homemade chicken broth

1 1/2 teaspoons shao hsing rice wine or 1 1/2 teaspoons dry sherry

1 teaspoon ginger juice ( method in note, below)

1/2 teaspoon cornstarch

1/4 teaspoon salt

1/8 teaspoon sugar

1 tablespoon vegetable oil

3 slices ginger
Directions
Cut the broccoli stalks in half lengthwise if more than 1/2 inch in diameter. Cut the stalks and leaves into 2-inch-long pieces, keeping the stalk ends separate from the leaves. In a small bowl combine the broth, rice wine, ginger juice, cornstarch, salt, and sugar.

Heat a 14-inch flat-bottomed wok over high heat until a bead of water vaporizes within 1 to 2 seconds of contact. Swirl in the oil, add the ginger, and stir-fry 10 seconds or until the ginger is fragrant. Add only the broccoli stalks and stir-fry 1 to 1-1/2 minutes until the stalks are bright green. Add the leaves and stir-fry 1 minute until the leaves are just limp. Stir the broth mixture and swirl it into the wok. Stir-fry 1 minute or until the sauce has thickened slightly and lightly coats the vegetables.

Note: To make ginger juice, grate a small amount of ginger and then squeeze it with your fingers to extract the juice.