Hawaiian Coconut Shortbread Cookies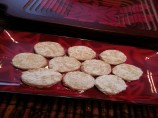 Photo by msnokaoi
Prep Time: 45 mins
Total Time: 1 hr 5 mins
Serves: 36, Yield: 36 cookies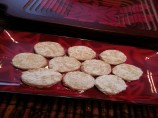 Photo by msnokaoi
About This Recipe
"This is a recipe from an old Sunset Desserts Cookbook, likely from the 1970's, that was lost during a move. I searched high and low on the internet for this exact recipe, as I remembered it, to no avail. I finally found a copy of the recipe I had handwritten and placed in my mother's very old cookbook many years ago. Eureka! I wanted to post it here, so that I wouldn't lose it, and to share so others could enjoy them as well. I used to make these occasionally as a special treat for our family and for holidays and events. Rich and buttery with that wonderful coconut taste with a powdered sugar coating similar to wedding cookies. These are pretty simple to make and are "jr. chef assistant" friendly, especially for little hands to coat them in powdered sugar. Probably one of the best things about these cookies is that they are so great for a "make-ahead" cookie, as the dough is refrigerated and sliced, so you can break up the prep time into different days. Also, the baked cookies improve in flavor as they mature, so another "do-ahead" advantage. They are ideal for "care packages" to mail, if cushioned and packed securely, as they don't go stale. I hope you enjoy these as much as our family and guests have :)"
Ingredients
236.59 ml butter, softened ( 8 ounces)

59.14 ml granulated sugar

4.92 ml vanilla

473.18 ml all-purpose flour ( measured after sifting)

1.23 ml salt

473.18 ml sweetened flaked coconut

236.59 ml powdered sugar, Sifted ( or more as needed, for coating after baking)
Directions
Cream the butter until smooth. Add granulated sugar and vanilla, creaming again until smooth and slightly fluffy.

Sift flour and then measure the 2 cups of flour. Add salt to flour and sift again.

Gradually add to the creamed butter mixture until you have added all the flour and mixture is smooth. Mix the coconut into the cookie dough.

Shape into a one and half (1.5) inch diameter roll and wrap in plastic wrap. Refrigerate until it the dough is firm, about 2-4 hours, or for several days until ready to use. May be frozen for later baking.

Using a sharp knife, cut 1/4 inch slices from the cookie dough roll and place on a very lightly greased cookie sheet, about 1 inch apart.

Bake at 300 degrees for about 20 minutes, until a light golden brown at edges, but not browned entirely across the top.

Cool cookies on sheet just until they are set, easy to remove and have cooled slightly, usually about 2 to 3 minutes. Remove cookies with a spatula and place on the 1 cup of powdered sugar that you have sifted onto a piece of wax paper or similar surface. Cover cookies with powdered sugar on all sides by sifting more sugar over them or "rolling" them in the sugar. After they have cooled and the powdered sugar has "set", you can coat them with more powdered sugar if you would like. Cool completely and then store in an airtight container, for however long you can keep them from being eaten!

Try these the first time following the recipe as given. The next time, you can play around with adding other ingredients to tweak these to your exact tastes. Some ideas, toasting some of the coconut before adding to the dough, adding finely chopped macadamia nuts, ginger, cardamom or any citrus zest. Key lime zest and macadamias is a great combo, truly a cookie that takes you to tropical islands without the frequent flier miles :).