Shepherd's Pie - All the Taste, Lower Fat!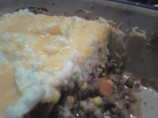 Photo by PickleLover
Prep Time: 15 mins
Total Time: 1 hr
Servings: 4-6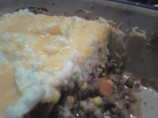 Photo by PickleLover
About This Recipe
"Really Good Shepherd's Pie, Lots of flavor and DH LOVED this and it doesn't taste low fat! 9 ww points each for 4 Huge servings or 6 ww points each for 6 regular size servings."
Ingredients
6 medium potatoes, peeled and quartered

1 teaspoon margarine

1 tablespoon light cream

1/2 teaspoon salt

1/4 teaspoon pepper

11 1/4 ounces lean ground beef

1 onion, diced

1/4 teaspoon pepper

1/2 teaspoon garlic powder

1 tablespoon cornstarch

1 tablespoon cold water

1/4 cup ketchup

2 beef bouillon cubes ( mixed in 3/4 cup boiling water, or 2 packets of Beef OXO mixed in 3/4 cup boiling water)

1 tablespoon Worcestershire sauce

2 (14 ounce) canned vegetables ( your choice, corn, green beans, carrots, peas, etc...)

1 cup light cheddar cheese, shredded
Directions
Preheat oven to 375°F.

Bring a large pot of salted water to a boil. Add potatoes and cook until tender. Drain and mash. Mix in butter, cream and first amount of salt and papper.

Brown ground beef and onions, drain fat. Sprinkle with pepper and garlic powder. Mix cornstarch and water together and add to beef mixture, cook 1 minute. Add ketchup, beef broth and Worcestershire sauce, Bring to a boil, reduce heat and simmer for 5 minutes.

Mix the veggies into the ground beef mixture and spread in an even layer on the bottom of a casserole dish.

Top with mashed potatoes and sprinkle with shredded cheese.

Bake for 25 minutes, or until golden brown. Bake additional 10 minutes if cooking from fridge.