Oriental Noodle Salad With Peanuts, Spinach & Cabbage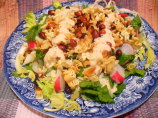 Photo by Montana Heart Song
Prep Time: 15 mins
Total Time: 25 mins
Servings: 6-8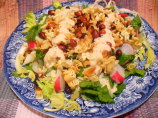 Photo by Montana Heart Song
About This Recipe
"Texture and taste means so much to the visually impaired and visual appeal to the sighted. I have tried to accomplish all with this recipe. No almonds, onions or bok choy or napa cabbage--just green cabbage. Enjoy!"
Ingredients
2 (3 ounce) packages oriental-flavor instant ramen noodles

1 1/2 cups unsalted Spanish peanuts, whole, with skins

1/2 teaspoon salt or 1/2 teaspoon salt substitute

1/4 cup margarine

3 cups green cabbage, coarsely shredded

3 cups fresh spinach, stemmed, chopped

5 -6 red radishes, sliced

2 stalks celery, thinly sliced, save leaves for garnish

3/4 cup evaporated milk

2/3 cup white vinegar

2/3 cup vegetable oil

2 tablespoons brown sugar or 2 tablespoons Splenda brown sugar blend

2 teaspoons kikomen soy sauce

1/2 teaspoon kraft creamy horseradish sauce (optional)
Directions
In large frying pan melt margarine. Coarsely crush the ramen noodles in the package before opening. (Save the flavor packets).

Add the crushed noodles to the melted butter. Add the peanuts and sprinkle the salt and stir until lightly to dark brown.

Do not burn. Set aside.

Throw the shredded cabbage and spinach in large serving plates or bowl. Add radishes and celery. Lightly toss.

In blender add milk, vinegar, oil, brown sugar, soy sauce, seasoning packets and horseradish sauce if desired. Pulse a few times.

Spoon the peanut and noodles on the spinach/cabbage mixture and mix or leave on the top.

Drizzle or spoon the dressing on top.

Note: I wash all my fresh veges with ice cold water and a dab of bleach. Let them set for a few minutes. Drain the water, rinse the veges and put loose ones in a salad spinner. I have done this since 1963 when we were in another country and I have never stopped. It is safe.