Potato Gratin With Peppers, Onions and Tomatoes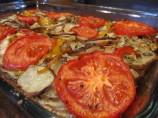 Photo by Rita~
Prep Time: 15 mins
Total Time: 1 hr 45 mins
Servings: 6-8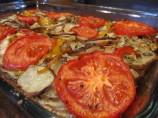 Photo by Rita~
About This Recipe
"A Lydie Marshall gratin worth making just for the smell while it's cooking--but it sure does taste good. This can also be made in individual gratin dishes--just adjust the baking time for the smaller quantities."
Ingredients
1/3 cup olive oil ( divided use)

4 garlic cloves, peeled and minced ( divided use)

2 lbs yukon gold potatoes, peeled and sliced 1/8 to 1/16 inch thick ( can use White Rose or russet potatoes)

1 yellow pepper, sliced 1/8 inch thick

1 red pepper, sliced 1/8 inch thick

3 large tomatoes, sliced 1/8 inch thick

1 Spanish onion, peeled and sliced 1/8 inch thick

1 1/2 teaspoons coarse salt ( divided use)

fresh ground pepper

2 tablespoons fresh oregano ( divided use)
Directions
Preheat oven to 325 degrees. Dribble 1 tablespoon of olive oil into a 2-quart rectangular or 14-inch-by-8-inch-by 2-inch oval baking dish and scatter 1/4 of the minced garlic over the bottom of the pan.

Arrange the vegetables in layers, starting with the potatoes and peppers and finishing with the tomatoes and onion.

Sprinkle salt, freshly ground pepper, and oregano and about 1/4 of the garlic between each layer.

Drizzle the remaining olive oil over the surface and bake for 1 1/2 hours or until fork-tender.

Note: The easiest way to slice the potatoes is with a mandoline. Remember that the thicker the potato slices, the longer it will take to bake.

Note2: As I have wonderful dried oregano from Greece, I use that as it is better than what I can get fresh.