Savory Southwestern Soup-South Beach Friendly!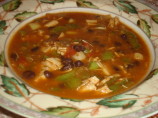 Photo by *Pixie*
Prep Time: 20 mins
Total Time: 40 mins
Servings: 10-12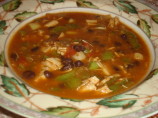 Photo by *Pixie*
About This Recipe
"This recipe was inspired by Progresso's Southwest Chicken Soup which my husband loves. We wanted a version that was easy to make, economical and still heart healthy. You can easily adapt this recipe to your own tastes, if you're not on a low sodium, low fat diet (like we are) try it with chicken thighs for added flavor! The healthy version uses no salt beans, tomatoes, & chicken broth, chicken breasts and low sodium salt. You can also easily make this recipe in a crockpot. To make it "South Beach Diet" friendly just omit the corn and rice for phase 1. Manja guilt free!"
Ingredients
1 lb chicken breast, chopped into 1/2 inch cubes

2 teaspoons olive oil

1 large onion, diced

1 (14 ounce) cans Mexican-style tomatoes ( go for plain, low sugar canned tomatoes if on the South Beach diet)

1 (24 ounce) jars salsa ( we use southwestern style)

7 garlic cloves, chopped finely

1 1/2 teaspoons oregano leaves

1 teaspoon paprika

2 tablespoons cumin powder ( or to taste)

1/2 teaspoon salt ( to taste)

1 (14 ounce) cans black beans, rinsed ( can increase to 2 cans)

2 (32 ounce) containers fat free chicken broth

1/2 lb frozen corn ( omit if on the South Beach diet)

1/2 lb frozen cut green beans

1/4 cup cilantro leaf, chopped finely (optional)

2 cups Minute brown rice, cooked ( omit if on phase 1 of the South Beach diet)
Directions
Chop the chicken breasts into 1/2 in cubes and sprinkle with the dry spices and mix well to coat.

In a large, heavy bottomed soup pot, brown the coated chicken in hot oil 3-5 minutes, stirring often. Add the onion and garlic and mix well. Cook an additional 3-5 minutes until chicken is cooked through.

Add the can of tomatoes and stir. Then add the jar of salsa and stir again. When this mixture begins to boil add the containers of chicken broth. Stir and bring to a boil.

Add the beans, frozen corn and green beans. Note: may need to break the beans so they are bite sized (about 1/2 inch each).

Bring to a boil again and reduce heat to simmer. Cook an additional 10-15 minutes until the beans and corn are tender.

If rice is desired, cook separately according to package directions and add 1/4 cup to each bowl when serving.

Garnish with chopped cilantro.

Note: Omit corn and rice if you're on the South Beach Diet and increase beans to 2 cans. Also consider adding jicama for fiber and a lovely crunchy texture.