Southwestern Eggs With a Kick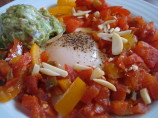 Photo by Starrynews
Prep Time: 15 mins
Total Time: 25 mins
Servings: 4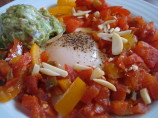 Photo by Starrynews
About This Recipe
"Great fast breakfast. Can make it as Hot or mild that you like. It takes 25min. from start to finish"
Ingredients
2 tablespoons sliced almonds

1 yellow sweet pepper, cut into bite-size strips

1 jalapeno pepper, seeded and chopped

1 tablespoon olive oil or 1 tablespoon cooking oil

4 medium tomatoes, peeled and chopped

1 -1 1/2 teaspoon chili powder

1/2 teaspoon ground cumin

1/4 teaspoon salt

4 eggs

1 medium ripe avocado, seeded, peeled, and sliced (optional)

fresh chili pepper (optional)
Directions
Spread almonds in a large skillet. Cook over medium heat for 4 to 5 minutes or until lightly browned, stirring occasionally. Remove almonds from skillet; set aside.

Cook sweet pepper and jalapeno pepper in hot oil in same skillet about 2 minutes or until tender. Stir in tomatoes, chili powder, cumin, and salt; bring to boiling. Reduce heat and simmer, covered, for 5 minutes.

Break one of the eggs into a measuring cup. Carefully slide the egg into simmering tomato mixture. Repeat with remaining eggs. Sprinkle eggs lightly with salt and pepper.

Cover and simmer eggs over medium-low heat for 3 to 5 minutes or until whites are completely set and yolks begin to thicken but are not firm.

To serve, transfer eggs to serving plates with a slotted spoon. Stir mixture in skillet; spoon around eggs on plates. Sprinkle with toasted almonds. If desired, serve with avocado slices and garnish with fresh chili peppers.