Bourek (Meat Filled Pastry)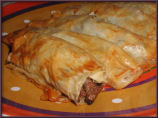 Photo by Sandi (From CA)
Prep Time: 20 mins
Total Time: 40 mins
Servings: 8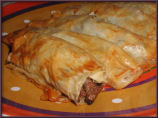 Photo by Sandi (From CA)
About This Recipe
"This is an Algerian appetizer. Traditionally ground lamb is used for the filling but you can also try ground beef or turkey or even one time I did spinach and feta. You can also adjust the seasonings. I think phyllo dough is a pain to work with and was told to try it with an asian type wrapper. I tried but it didn't come out as well. You can fold the dough around it pretty much any way you want. Just do them all the same so they cook in the same amount of time."
Ingredients
1 teaspoon butter

1/2 lb ground lamb

1 small onion

4 sprigs parsley, chopped

1/2 teaspoon salt

1/4 teaspoon black pepper

1/8 teaspoon cinnamon

8 phyllo pastry sheets, 12 x 17 inches each

3 tablespoons melted butter

1 egg, beaten
Directions
Melt the butter in a skillet over medium heat.

Add the lamb and stir-fry a minute.

Add the onion, parsley, salt, pepper and cinnamon and cook over medium low heat til lamb is cooked through.

Take one sheet of phyllo and fold both side to the center length-wise.

Sprinkle lightly with melted butter.

Place 2 heaping tablespoons of meat stuffing at one end of the phyllo.

Press it out til it is about 4 inches wide and 1 inch deep.

Roll the dough over and roll about 3 times.

Sprinkle a bit more butter on the end and dab with egg to seal.

Do this with the remaining meat mix and phyllo.

Bake in a buttered baking dish in 350 degree oven for 15 to 20 minutes.