Sweet & Smoky Chicken Stew (Ww Core Friendly)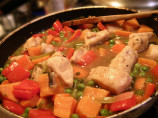 Photo by justcallmetoni
Prep Time: 15 mins
Total Time: 35 mins
Servings: 4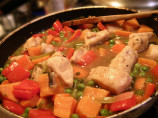 Photo by justcallmetoni
About This Recipe
"A new take on the classic chicken stew. This recipe uses sweet potatoes and a delightfully different combination of spices to create a slightly smoky, sweet and tangy sauce. Admittedly, this is better with chicken thighs but I usually make it with boneless skinless breasts. You can serve this over brown or white rice or (as I do) over couscous. If you are following the WW Core program omit the honey and cornstarch and count points for the flour -- 2 points for the entire recipe. If you are on Flex, the stew (not including the couscous) is 4 points per serving."
Ingredients
3 tablespoons white flour

1/4 teaspoon pepper

1/4 teaspoon salt

3/4 lb boneless skinless chicken thighs or 3/4 lb boneless skinless chicken breast, cut into 3/4 inch cubes

2 teaspoons olive oil

cooking spray

1 red pepper

7 scallions, cut into 1 inch pieces

3 garlic cloves, sliced

1 carrot, peeled and cut into coins 1/4 inch thick

1 large sweet potato, peeled and cut into 3/4 inch cubes

1 teaspoon cumin

3/4 teaspoon cinnamon

3/4 teaspoon ground ginger

1/2 teaspoon red pepper flakes

1 dash turmeric

1 tablespoon honey

1/2 teaspoon vinegar

1 cup frozen peas

2 cups fat-free chicken broth

1 teaspoon cornstarch (optional)

1 tablespoon water (optional)
Directions
Once you start cooking, this dish comes together rather quickly. As such it is best if you do all your cutting and chopping before starting to cook.

Heat the oil in a nonstick skillet until hot but not smoking.

Combine the flour salt and pepper. Dredge the chicken cubes in the seasoned flour. Shake off excess flour and place the chicken in the pan. Reserve unused flour for later. Cook chicken until browned, about 3 minutes per side. Remove chicken from the pan.

Apply a scant amount of cooking spray to the pan. Add the red peppers and cook for 2 or 3 minutes. Add the scallions and garlic slices, stir and cook an additional minute.

Add the carrots and sweet potatoes, stirring in the reserved flour left over from the chicken. Mix in the dry spices (cumin, ginger, cinnamon, red pepper flakes and turmeric).

Stir in the chicken broth, honey and vinegar and bring to a boil. Reduce heat to a low simmer, cover and cook until the potatoes are almost tender, about 5 minutes.

Return the chicken to the skillet and cook until the chicken is cooked all the way through, another 5 minutes or so.

Stir in the peas and cook through, a minute or two.

If you like a thicker stew, bring the stew to a boil and swirl in the cornstarch mixed in water at the same time you add in the peas. Cook for a minute.

Ladle the stew over rice or couscous and serve.