Seafood Salad Martini With Vodka Habanero Dressing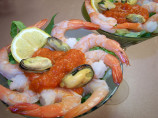 Photo by Rita~
Prep Time: 1 hr
Total Time: 5 hrs
Servings: 8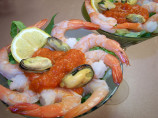 Photo by Rita~
About This Recipe
"This was included in a Baltimore Sunpapers restaurant review several years ago, with professional-sized quantities, DH called the chef, and he kindly broke it down to more manageable proportions. All together, it is quite expensive, but a BIG hit at a "gourmet" dinner party. I found fairly inexpensive large martini glasses at Marshall's and Pier 1, heavy glass with a blue rim. A tad labor-intensive, but worth it."
Ingredients
1 whole fresh habanero pepper, seeded and chopped

1 ripe mango, peeled and cubed

1 sweet red pepper, seeded and diced

1 (14 ounce) cans crushed tomatoes

1 carrot, peeled and diced

1/8 cup dry mustard

2 1/2 tablespoons light brown sugar, packed

1/8 cup cider vinegar

4 tablespoons vodka, unflavored

2 1/2 garlic cloves

1 teaspoon curry powder

1/2 teaspoon cumin powder

1 teaspoon salt

1/2 teaspoon black pepper

1/2 teaspoon catsup

3 lbs fresh seafood, of choice ( steamed or cooked)

8 slices celery, julienned

8 lemon twists

1/2 lb lump crabmeat
Directions
Combine all ingredients EXCEPT seafood, and lemon and celery garnish, in a large saucepan, bring to boil and simmer for 1 hour.

NOTE: Combination of shrimp,scallops, mussels, and or lobster, to equal 3 pounds.

Puree in blender or food processor: taste and adjust seasonings.

NOTE: Habenero and Scotch Bonnet chilies are among the hottest available. Jalapeño is milder, if preferred. Use gloves to handle raw.

Cool dressing for 1 hour before serving.

To assemble: In a beautiful martini glass. Layer seafood and dressing to top of glass.

Any left over sauce may be saved and frozen.

Chill at least 2 hours before serving.

Garnish with celery and lemon twists.

Top with 1 ounce of crab meat per serving.