Patrick's Fast and Delicious Beefsteak Tips and Noodles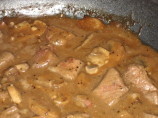 Photo by HeidiSue
Prep Time: 20 mins
Total Time: 50 mins
Servings: 4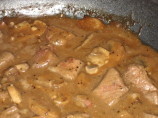 Photo by HeidiSue
About This Recipe
"This recipe achieves three of four important considerations -- you get FAST, DELICIOUS and EASY, but, New York strip steaks are not all that CHEAP. Still, if you were using a lesser cut of meat, you will be at your stove for quite a bit longer to tenderize the meat. Also, the strip steaks are all lean except for the fat that gets trimmed off around the edges. You could also substitute rib-eye steak in this recipe, which work equally well. This dish (except for boiling the noodles) could also be easily carried out using a wok and a gas grill, or, even with a wok in campfire coals. If you're camping, just make the noodles up in advance and store them in a zip-lock bag in your cooler. They can be quickly reheated in a pan with a little olive oil at the campfire. In any case, I really enjoy this dish and so does my family -- for us, it's worth a little extra expense by using good steak for the beef tips, especially since it saves time."
Ingredients
1 lb wide egg noodles, dry

1 1/2 lbs New York strip steaks, all fat trimmed and cut into 3/4-inch chunks

1/4 teaspoon kosher salt

3 tablespoons olive oil, divided

1/2 teaspoon black pepper, freshly milled

3 quarts water

15 ounces beef broth ( canned)

pan dripping ( from frying steak)

1/2 teaspoon Kitchen Bouquet

2 tablespoons Wondra Flour

1/4 teaspoon seasoning salt

1 garlic clove, chopped fine

3 tablespoons butter

14 ounces sliced mushrooms, drained ( canned)

1 teaspoon sugar
Directions
Prepare the noodles: Boil the noodles in the 3 quarts of water, with 1 tablespoon of the olive oil added, until tender. Drain and shock in a rinse of cold water. Re-drain and set aside.

Season the steak pieces with the kosher salt and pepper.

Over medium-high heat, fry the steak pieces in 2 tablespoons of olive oil, stirring frequently, until they are nicely browned on all sides. When browned, remove the steak pieces and add the 3 tablespoons of butter to the drippings -- reduce the heat to medium.

When the butter has melted, add in the garlic and stir for 30 seconds and then, slowly whisk in the Wondra flour to form a fast roux (one minute). Then, again while whisking, add the beef broth.

When the broth begins to boil and thicken, reduce heat again, to low, and add the Kitchen Bouquet, sugar, mushrooms, and seasoned salt. (Taste before adding the salt to make sure it's not salty enough already -- regular beef broth often contains enough salt on its own for this dish.) Allow to simmer until it begins to bubble, about three minutes, and remove from heat.

Serve by plating noodles (re-heated in microwave), and then spooning beef tips/gravy over them.