Butter Crunch Lemon-Cheese Bars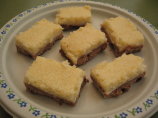 Photo by Engrossed
Prep Time: 15 mins
Total Time: 1 hr 10 mins
Servings: 8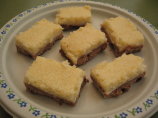 Photo by Engrossed
About This Recipe
"Pucker up, these are heaven!"
Ingredients
Crust

1 nonstick cooking spray

1/3 cup butter, softened

1/4 cup packed dark brown sugar

1/4 teaspoon salt

1/4 teaspoon ground mace or 1/4 teaspoon nutmeg

1 cup all-purpose flour

Filling

1 cup low fat cottage cheese

1 cup granulated sugar

2 tablespoons all-purpose flour

1 tablespoon grated lemon, zest of

3 1/2 tablespoons fresh lemon juice

1/4 teaspoon baking powder

1 large egg

1 large egg white
Directions
Preheat the oven to 350 degrees.

Spray an 8-by-8-inch square baking dish with nonstick spray.

To prepare the crust, in a mixing bowl beat together on medium speed the butter, dark brown sugar, salt and mace until smooth.

Spoon 1 cup flour lightly into a dry measuring cup and level with a knife.

Add the flour to the butter mixture and beat at low speed until well blended.

Press the crust into the prepared baking dish and bake for 20 minutes.

Meanwhile, prepare the filling.

In a food processor fitted with the metal blade, process the cottage cheese for 2 minutes or until smooth, scraping sides of the bowl once.

Add the sugar, flour, lemon zest, lemon juice, baking powder, egg and egg white.

Process until well blended.

Pour the filling over the baked crust.

Bake at 350 degrees for 25 minutes or until set (the edges will get lightly browned).

Remove from the oven and cool.

When cool, cover and chill for 8 hours.

To serve, cut into bars.