Julie's Deluxe Chicken Pot Pie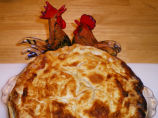 Photo by Julie B's Hive
Prep Time: 1 hr
Total Time: 1 hr 45 mins
Serves: 6-8, Yield: 1.0 lg pie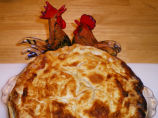 Photo by Julie B's Hive
About This Recipe
"This takes a little time, but it's worth it! Pie can be prepared ahead of time and stored in refrigerator until ready to bake."
Ingredients
1 garlic clove

2 stalks celery

2 carrots

1/2 sweet onion

2 tablespoons olive oil

2 tablespoons butter

1/2 cup butter

1/2 cup flour

16 ounces chicken stock

2 ounces white wine ( or to taste)

1/2 cup heavy cream

1 pinch nutmeg

1 pinch sage

1 pinch thyme

fresh ground pepper

2 cooked chicken breasts

1/4 cup frozen peas

1 uncooked pastry for double-crust pie ( top and bottom)

1 egg white
Directions
Finely chop garlic. Slice celery, carrots and onion into like-size pieces. Heat garlic with olive oil and 2 T butter over med-hi, adding celery, carrots and onion when pan is heated. Saute about 12 minutes, or until carrots are fairly tender but garlic and onions are not burned.

While vegetables are cooking, chop cooked chicken breasts and set aside.

Remove vegetables from pan and set aside. In same pan on med-hi, melt 1/2 c butter and stir in 1/2 flour. Brown mixture slightly, being careful not to let it burn. Add chicken stock a few ounces at a time, stirring to incorporate after each addition. Add wine to taste, then cream. Add spices to taste. (Probably don't need salt because of chicken stock.) Stir in cooked vegetables. Turn off heat and set aside.

Stir chicken and frozen peas into vegetable mixture and pour into pie. Place top crust on top and trim about 5/8" outside edge of dish. Fold top crust under bottom crust and flute (pinch) edge around pie to seal. Cut a small, simple design in top to let steam escape. (I make a three petal flower with stem, making sure none of the petals or stem touch each other.).

If making ahead of time, remove from fridge 1 hour before cooking (1/2 hour on a hot day) and don't brush with egg-white until just before cooking.

Preheat oven to 425 degrees. Brush top with egg white, cover edge with foil and bake for 5 minutes.

Then turn heat down to 350 degrees and remove foil. Continue baking for 35 - 45 minutes, or until crust appears done.

Let sit at least 10 minutes before slicing.