Burger Elegance With Mushroom Sauce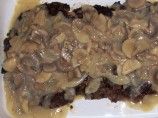 Photo by Jellyqueen
Prep Time: 15 mins
Total Time: 35 mins
Servings: 4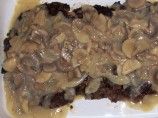 Photo by Jellyqueen
About This Recipe
"Elegant, gourmet bunless burgers (or you can call them hamburger steaks) topped with a yummy mushroom and onion sauce. These burgers are excellent for entertaining because they look so fancy, and taste even fancier!"
Ingredients
Burger ingredients

1 1/2 lbs 90% lean ground beef

1/2 cup breadcrumbs

1/2 medium onion, finely chopped

3 garlic cloves, minced

1/4 red bell pepper, finely chopped

1 serrano pepper, finely chopped

1/2 cup fresh parsley, finely chopped

1 cup monterey jack pepper cheese, grated and divided

1 egg

2 tablespoons Worcestershire sauce

2 tablespoons steak seasoning ( I recommend recipe #184558)

2 tablespoons extra virgin olive oil

Sauce ingredients

1 medium onion, thinly sliced

12 cremini mushrooms, sliced

1 tablespoon extra virgin olive oil

1/4 cup red wine

2 tablespoons Worcestershire sauce

1/2 cup milk

1 tablespoon Dijon mustard

2 tablespoons butter

2 tablespoons chives

salt and pepper
Directions
Combine ground beef, breadcrumbs, chopped onion, garlic, bell pepper, serrano, parsley, 1/2 the pepper jack cheese, egg, Worcestershire and grill seasoning in a large mixing bowl.

Mix gently until all ingredients are combined well.

Form 4 fat patties.

Drizzle olive oil on a platter and coat both sides of the patties with the oil.

Place patties in a hot (medium high flame) skillet. Don't move them! Let the patties caramelize on one side before flipping, then let them caramelize on the other side.

When patties are done, transfer to a platter. Top each patty with 1/4 of the remaining cheese. Cover with a foil tent and place into a warm oven to melt the cheese. The foil tent helps the patties retain their juiciness.

In the same skillet, drizzle in the remaining 1 Tbsp of olive oil.

Saute the onions and mushrooms until the mushrooms are a nice, rich brown, then season with salt and pepper.

Deglaze the pan with wine, scraping up all the tasty brown bits. Let the alcohol cook off.

Stir in Worcestershire, milk and mustard. The mixture will thicken up quickly.

Gloss the sauce by dropping the butter into the pan in small chunks and letting it melt. When all the butter is melted, give the pan a final stir.

When you plate the patties, spoon the onion mushroom sauce over each patty.

Garnish with fresh chives.

Enjoy!