Amy Sedaris's Vanilla Cupcakes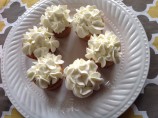 Photo by Janie Dever
Prep Time: 20 mins
Total Time: 40 mins
Yield: 24 cupcakes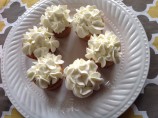 Photo by Janie Dever
About This Recipe
"Amy Sedaris, so I hear, sells her cupcakes in New York City bakeries. I found this recipe for Amy's cupcakes on the web, but I don't remember where. This was my first time making cupcakes from scratch and I have to say, I was quite proud of the results. I gave them away to friends and family, and everyone loved them. March 2, 2011 Hi, guys! It was several years ago that I found and posted this recipe. Since then, Amy Sedaris has published a cookbook which contains her recipe for vanilla cupcakes. It's not the same as this one. :( Like I said before, I don't remember where I found this recipe, but I remember that the person who posted it was very certain about it being Amy Sedaris's recipe."
Ingredients
3/4 cup unsalted butter

1 3/4 cups sugar

2 large eggs

2 teaspoons pure vanilla extract

1/2 teaspoon salt

2 1/2 teaspoons baking powder

2 1/2 cups flour

1 1/4 cups milk

1 lb confectioners' sugar

1/4 cup half-and-half

1 teaspoon pure vanilla extract
Directions
Preheat oven to 375°F.

In a large bowl, cream together butter and sugar. Add in the eggs, two teaspoons vanilla, salt and baking powder. Add flour and milk in batches, starting and ending with flour. Stir until batter is smooth and satiny.

Fill paper-lined muffin tins with batter. Bake at 375° for 18- 20 minutes.

For frosting, whip together the box of confectioners' sugar, half-and-half, and one teaspoon vanilla until smooth and fluffy.

Allow cupcakes to cool about 45 minutes and frost.

*HINT* I added about one extra teaspoon of vanilla to the batter.

This recipe didn't specify, but I used all-purpose flour.

To the frosting, I added a bit more half-and-half to reach a thinner consistency.