Baked Chicken on Pecan Stuffing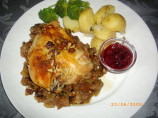 Photo by Sage
Prep Time: 15 mins
Total Time: 1 hr
Servings: 4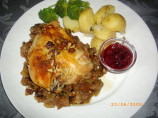 Photo by Sage
About This Recipe
"As we are now only two I find that a couple of chicken breasts is much better than a whole chicken and dealing with all the leftovers. Since I'm diabetic I use apple juice in place of apple jelly and it still tastes very good, also, I cook the veggie's in some chicken stock instead of butter.."
Ingredients
1 small onion, chopped

2 celery ribs, chopped

1 apple, peeled, cored and diced

3 tablespoons butter

1 teaspoon salt

1/2 teaspoon dried sage

1/8 teaspoon dried sage

1/2 teaspoon pepper

3/4 lb stale Italian bread, cubed

3/4 cup chicken broth

1 egg, lightly beaten

2/3 cup chopped pecans

1/2 cup raisins

4 chicken breast halves

1/4 cup apple jelly

1/8 teaspoon ground cinnamon
Directions
Cook onion, celery, apple in butter in skillet 5 minutes. Add 1/2 teaspoon each salt, sage, pepper. Mix in bowl with bread. Drizzle with chicken broth, egg. Stir in 1/2 cup nuts, raisins. Spread in 13 x 9 x 2-inch pan. Top with chicken and sprinkle with remaining salt.

Bake in 400 degree F oven 30 minutes. Melt jelly, remaining sage, cinnamon in saucepan; brush on chicken. Top with remaining nuts. Bake 15 more minutes.