Seasoning for Beef Pot Roast in a Bag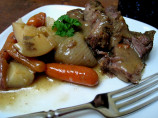 Photo by Caroline Cooks
Prep Time: 10 mins
Total Time: 2 hrs 10 mins
Servings: 6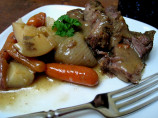 Photo by Caroline Cooks
About This Recipe
"I love the seasonings that come in a pot roast bag but I was out of them so I came up with this and think it's a ringer for a very moist and tasty pot roast."
Ingredients
1 1/2 tablespoons Accent seasoning

1 tablespoon grated onion, with juice

1 tablespoon minced garlic

1 1/2 tablespoons paprika

2 tablespoons minced red bell peppers

2 tablespoons minced green bell peppers

1 tablespoon dried parsley

1/2 teaspoon dried mustard

2 tablespoons minced carrots

1 tablespoon cornstarch

1 cup water

1 large oven cooking bag

1 medium arm roast or 1 medium chuck roast

1/2 small onion, sliced into thin rings

salt

pepper

garlic salt
Directions
Sprinkle salt, pepper and garlic salt to taste on both sides of roast. Place roast in bag. In a small bowl combine first nine ingredients. Mix well.

Combine cornstarch and water and stir until smooth. Pour over roast and top with sliced onions. Tie bag and turn roast upside down and shake so seasoning covers all while holding sliced onion on top. Return to pan, being sure to move onion back to top of roast.

Poke about 5 small holes in top of bag and bake at 350 for 2 hours or until top is a bit brown and roast is tender.