New York City Black and White Cookies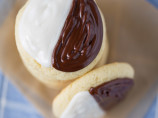 Photo by lizzy
Prep Time: 25 mins
Total Time: 40 mins
Servings: 6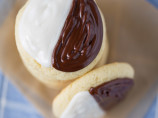 Photo by lizzy
About This Recipe
"Look to the cookie. These cake-style cookies are a staple in New York City. Growing up we used to buy these all the time and you can still get them in every bake-shop in the city. They were made famous to the rest of the world by an episode of Seinfeld entitled "The Dinner Party". They are more like small cakes than crunchy or chewy cookies, and should be roughly the size of the palm of your hand, if not, bigger. These are great for taking to a potluck, or if you've got a wayward New Yorker around."
Ingredients
For Cookies

295.73 ml all-purpose flour

2.46 ml baking soda

2.46 ml salt

78.07 ml buttermilk

2.46 ml vanilla

78.07 ml unsalted butter, softened

118.29 ml sugar

1 large egg

For Black or White icing

354.88 ml icing sugar or 354.88 ml confectioners' sugar

14.79 ml clear corn syrup

9.85 ml lemon juice

1.23 ml vanilla

14.79 ml water ( approx)

59.14 ml cocoa powder
Directions
Preheat oven to 350°F.

Sift together flour, baking soda and salt in medium bowl.

In small bowl or cup, mix together buttermilk and vanilla.

Beat butter and white sugar together in a large mixing bowl with an electric mixer for about 3 minutes or until it's evenly distributed.

Add egg to butter and sugar mixture, and beat until blended.

Gradually beat in flour mixture one cup at a time, and add in buttermilk mixture between each cup of flour, and mix until smooth. It will be necessary to scrape down the sides of the bowl while mixing.

Spoon batter in 1/4 cup size servings onto a baking sheet lined with parchment paper.

Bake on middle rack for about 15-17 minutes, or until the tops are golden brown and spring back when touched.

Place on a cooling rack, and allow to cool completely before icing.

Stir together icing sugar, corn syrup, lemon juice, vanilla, and 1/2 Tbsp of water in bowl until smooth.

Place half of mixture into separate bowl and add cocoa powder, and remaining water bit by bit until it is the same consistency as the white icing. If the icing is too runny, add more icing sugar until it is smooth and spreadable.

Turn cooled cookies flat side up, and spread icing with pastry spatula, or butter knife. White over one half, chocolate over the other. The icing does not set solid on these cookies, and does not harden, but it dries enough to be wrapped as they are sold in the city. They can be wrapped individually in cellophane, or sealed in a plastic container.