Crock Pot Braised Chicken With Vegetables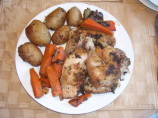 Photo by Sage
Prep Time: 20 mins
Total Time: 8 hrs 20 mins
Servings: 3-4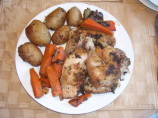 Photo by Sage
About This Recipe
"You can increase the chicken amount and all other ingredients slightly. If you do not want to use wine you can use 1/4 cup more chicken broth (1/2 cup broth). For a browned skin the chicken pieces must sit on top of the veggies. Adjust the garlic, thyme, salt and pepper to taste"
Ingredients
2 medium onions, sliced

2 tablespoons melted butter ( can use less)

4 russet potatoes ( cut into about 1/3-inch sliced)

2 1/2 cups carrots, peeled and chopped into about 1-1/2-inch pieces ( or use baby carrots)

1 cup frozen peas

2 teaspoons seasoning salt, divided ( or to taste, or use white salt)

black pepper

1/4 cup chicken broth

1/4 cup white wine

1 tablespoon minced fresh garlic ( or to taste)

1 teaspoon dried thyme ( or to taste)

1 1/2 teaspoons paprika

3 chicken thighs ( skin and bone-on)

3 chicken legs ( skin on)
Directions
Brush the inside of a 6-quart crock pot with melted butter.

Place the onion slices in the bottom of the crock pot/slow cooker.

Top with potato slices, carrots and peas.

In a bowl combine the broth, wine, garlic, 1 teaspoon seasoned or white salt, black pepper and thyme; pour the mixture over the vegetables.

In a small bowl mix together 1-1/2 teaspoons paprika, 1-2 teaspoons seasoned salt (or to taste) and black pepper to taste; rub on top of the skin on the chicken.

Arrange the chicken pieces on top of the vegetables.

Cover and cook on LOW setting for about 7-8 hours, or until the chicken is tender.