The Best Bowl of Chili I've Ever Had...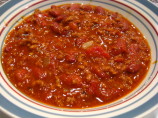 Photo by Papa D 1946-2012
Prep Time: 20 mins
Total Time: 1 hr
Servings: 4-6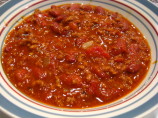 Photo by Papa D 1946-2012
About This Recipe
"I actually took 5 chili recipes and took out all the things I didn't like and kept all the things I did. This has become my very own version of the perfect bowl of chili!"
Ingredients
1 1/2 lbs ground beef

1 large chopped onion ( yellow or white)

4 minced garlic cloves

2 tablespoons chili powder

1/2 teaspoon salt

2 teaspoons ground cumin

1 teaspoon dried oregano

1/4 teaspoon cayenne

2 (15 1/2 ounce) cans kidney beans

1 (28 ounce) cans diced tomatoes

1 (6 ounce) cans tomato paste

1/2 teaspoon Tabasco sauce

1 (4 ounce) cans chopped jalapenos

1 teaspoon Splenda sugar substitute ( or sugar)

1 cup dark beer ( Newcastle or ?)

1 cup shredded cheese ( cheddar or Mexican mix)

1/2 cup sour cream
Directions
Cook ground beef in large frying pan.

While cooking, stir and chop beef with spatula to crumble.

Continue cooking for about 7 minutes or until the meat is brown and cooked through.

Add the onion, garlic, chili powder, salt, cumin, oregano, cayenne, and tabasco.

Cook while stirring, until onion is translucent, about 5 minutes.

Transfer to large pot. Add the Kidney beans (juice and all), canned tomatoes (juice and all), the tomato paste, jalapenos (yep, juice and all), splenda (or sugar), and beer.

Stir well and bring to a boil.

Lower the heat to medium-low and simmer, uncovered, for 30 minutes, stirring occasionally.

Top individual bowls of chili with a dollop of sour cream and a generous sprinkle of cheese.