Artichoke and Zucchini Salad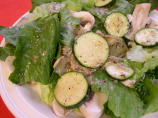 Photo by Bayhill
Prep Time: 1 hr 20 mins
Total Time: 1 hr 20 mins
Servings: 6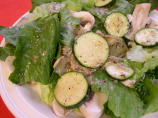 Photo by Bayhill
About This Recipe
"Marinated zucchini and artichokes tossed with romaine and fresh mushrooms"
Ingredients
3 small zucchini

1 (396.89 g) can artichoke hearts, quartered

1 head romaine lettuce

29.58 ml parsley

236.59 ml fresh mushrooms, sliced

Dressing

118.29 ml olive oil

59.14 ml red wine vinegar

14.79 ml lemon juice

29.58 ml parmesan cheese

29.58 ml grated onions

3.69 ml Worcestershire sauce

4.92 ml salt

3.69 ml pepper

4.92 ml sugar

3.69 ml oregano

3.69 ml basil

3.69 ml dry mustard
Directions
Slice zucchini thinly add drained and quartered artichokes.

Blend together dressing ingredients in blender for 30 seconds.

Pour over zucchini and artichokes marinate for 1 hour.

Tear romaine into bite size pieces, add parsley and mushrooms. Just before serving add artichokes and zucchini. Toss.