Artichoke and Zucchini Salad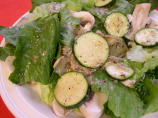 Photo by Bayhill
Prep Time: 1 hr 20 mins
Total Time: 1 hr 20 mins
Servings: 6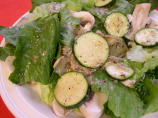 Photo by Bayhill
About This Recipe
"Marinated zucchini and artichokes tossed with romaine and fresh mushrooms"
Ingredients
3 small zucchini

1 (14 ounce) cans artichoke hearts, quartered

1 head romaine lettuce

2 tablespoons parsley

1 cup fresh mushrooms, sliced

Dressing

1/2 cup olive oil

1/4 cup red wine vinegar

1 tablespoon lemon juice

2 tablespoons parmesan cheese

2 tablespoons grated onions

3/4 teaspoon Worcestershire sauce

1 teaspoon salt

3/4 teaspoon pepper

1 teaspoon sugar

3/4 teaspoon oregano

3/4 teaspoon basil

3/4 teaspoon dry mustard
Directions
Slice zucchini thinly add drained and quartered artichokes.

Blend together dressing ingredients in blender for 30 seconds.

Pour over zucchini and artichokes marinate for 1 hour.

Tear romaine into bite size pieces, add parsley and mushrooms. Just before serving add artichokes and zucchini. Toss.