Almost Boston Baked Beans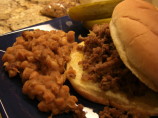 Photo by puppitypup
Prep Time: 1 hr
Total Time: 4 hrs
Serves: 7, Yield: 7 cups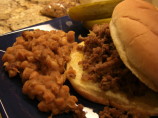 Photo by puppitypup
About This Recipe
"Not strictly traditional but close and very tasty. Dried beans, even the same kind of bean, can vary quite a bit in cooking time so start this one early. It only gets better with time. Adapted from Fine Cooking magazine."
Ingredients
1 lb dried white pea beans ( other beans may be substituted but increase cooking time)

4 ounces bacon, diced

1 medium white onion, diced

1 tablespoon garlic, minced

4 -5 cups water ( start with 4)

2 tablespoons molasses ( not blackstrap)

2 tablespoons maple syrup

3 tablespoons chili sauce, such as Heinz ( or ketchup)

2 tablespoons Dijon mustard

1 tablespoon Worcestershire sauce

black pepper, freshly ground to taste

1/2 teaspoon kosher salt ( to taste)

1 teaspoon apple cider vinegar
Directions
Wash and pick through the beans.

Place in a large pot, cover with a few inches of water and bring to a boil. Boil hard for 2 minutes, remove from heat and let sit covered for 1 hour.

Drain in a colander and rinse and dry pot to use again.

Heat pot over medium heat and add bacon, cooking to almost crisp. You may remove most of the rendered fat but I like to leave it in for the flavour.

Add onions and saute for 3 minutes, then add garlic and saute a couple more minutes until both are softening but not brown.

Add 4 cups of the water, the molasses, syrup, chile sauce, mustard, worcestershire and pepper. Bring to a boil.

IMPORTANT: do not add any salt or the vinegar. These must be added at the very end or the beans may not soften.

Add drained beans, bring to a boil again and then place in a large casserole dish or roaster and cover.

Bake at 350 degrees for 15 minutes, then reduce heat to 300 degrees. Check after 2 hours for doneness and for liquid level, then every half hour after that. If beans are not done but liquid is almost gone add a small amount of water. Don't add too much especially toward the end.

When beans are very soft carefully stir in the vinegar and salt to taste. Let rest 20 minutes before serving.

I like to transfer these to a crockpot when they are almost all soft and keep on low for a few hours, checking now and then.