Peppers Italian Country Style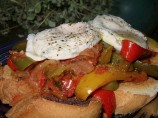 Photo by justcallmetoni
Prep Time: 10 mins
Total Time: 20 mins
Servings: 6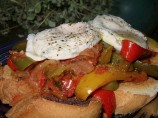 Photo by justcallmetoni
About This Recipe
"Grandma Rose and my mom made this at least once a week. Usually we eat it at room temperature on nice crusty bread folded over like a sandwich. Can be served warm on top of polenta, fried or poached eggs. Mushrooms were added also after fresh pickings if we had them so that is optional."
Ingredients
2 tablespoons olive oil

1 tablespoon butter

1 medium onion

2 red bell peppers

2 yellow bell peppers

2 green bell peppers

10 mushrooms (optional)

1 small garlic clove, minced

1 sprig fresh rosemary, two inches, chopped

1/2 teaspoon dried oregano

2 fresh basil leaves, chopped (optional)

6 plum tomatoes, peeled and cored

1 teaspoon salt

1/8 teaspoon black pepper
Directions
Slice onion, peppers and mushrooms into strips all the same size.

Peel and core fresh tomatoes, although drained canned plum tomatoes can also be used.

Heat the oil and butter in a large frypan over medium high heat. Add the onions and peppers and cook quickly tossing until onions are turning golden. Add in the mushrooms and stir on high heat. Stir in the garlic and spices cook a minute or two, and then add in the canned drained tomatoes. Simmer for four minutes until cooked and thickened. Remove from heat and season with salt and pepper.

Note: you also instead of the fresh or canned tomatoes can add your favourite tomato sauce and simmer until thickened. This gives more saucy consistency.