Secret Ingredient Low Fat Potato Salad!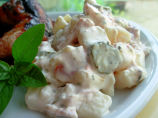 Photo by French Tart
Prep Time: 30 mins
Total Time: 45 mins
Servings: 4-6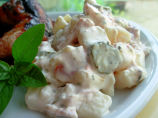 Photo by French Tart
About This Recipe
"I am ALWAYS asked what is in this family favourite Potato Salad - it's a very common but secret ingredient which just makes it so tasty! I am about to tell the secret now....it's liquid Maggi Seasoning! I also like to add diced cornichons, small dill pickles or gherkins as we call them in England, and diced ham as well! This recipe is also low-fat making it a guilt free accompaniment for all your Barbeques & Family gatherings! I have added some optional additions at the end - which makes it a very adaptable potato salad recipe."
Ingredients
2 lbs peeled potatoes

2 -3 tablespoons low-fat mayonnaise

2 -3 tablespoons low-fat creme fraiche

4 ounces finely diced cornichons

4 ounces finely diced ham

6 finely chopped spring onions, Scallions

1 -2 tablespoon liquid maggi seasoning

fresh ground black pepper

2 hard-boiled eggs, diced (optional)

4 ounces crisply fried cooked bacon, crumbled (optional)

1 red onion, peeled & finely diced (optional)

1 teaspoon smoked paprika (optional)
Directions
Peel the potatoes if needed & cut into 1" dice. Boil until just tender - not TOO soft! Drain the potatoes in a colander and set on one side too cool.

Meanwhile, mix together the low fat mayonnaise, low fat creme fraiche OR low fat sour cream & Maggi seasoning. Add the black pepper to taste.

Add the mayonnaise mixture to the potatoes and mix well but try not to break the potatoes up. Add the cornichons, ham & spring onions to the potato salad - mix through gently.

Taste and add more Maggi seasoning or black pepper if required.

Put into an attractive bowl and sprinkle more spring onions on as a garnish or parsley. I also like to sprinkle on smoked paprika as a garnish topping too.

Optional:.

Instead of the ham, use crisply fried bacon. Great with egg - egg & bacon potato salad! Instead of the spring onions, use diced red onions.

I have also added diced left over chicken & chopped apple to this mixture.

I have given the option of using more or less mayonnaise mixture for personal taste; some people like it very creamy & others like it not so creamy!

Maggi seasoning is quite salty, so use 1 tablespoon to start with, adding more if needed - teaspoon by teaspoon!