Chocolate-Covered Cherry Pie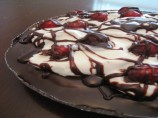 Photo by Melanie2590
Prep Time: 8 hrs
Total Time: 8 hrs
Servings: 8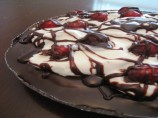 Photo by Melanie2590
About This Recipe
"If you really want to impress your guests or family with a dessert then this is it! This is a never-fail pie that I have made on many occasions, it's absolutely fantastic! --- plan ahead the pie needs to chill for a minimum of 8 hours before serving --- it's also wonderful even without the chocolate-dipped cherries, the first time I made it I did use the cherries, the second time I made this I just drizzled the melted chocolate on the cold pie, then dolluped whipped cream around the edge of the pie :)"
Ingredients
1 (6 ounce) ready-made chocolate crumb crusts

1 (12 ounce) packages semi-sweet chocolate chips

1/2 cup whipping cream ( unwhipped)

1/4 cup butter ( cut into small pieces)

1 (21 ounce) cans cherry pie filling

1 (8 ounce) packages cream cheese, softened

1/3 cup powdered sugar

1 large egg

1/4 teaspoon almond extract

16 maraschino cherries ( with stems attached) (optional)

2 cups whipped cream ( or use Cool Whip topping, thawed)
Directions
Microwave the semi-sweet baking chips with 1/2 cup whipping cream until the chocolate begins to melt (about 1 minute) remove and whisk in 1/4 cup butter until smooth; let cool, whisking occasionally for about 10 minutes, or until the mixture reaches a spreading consistency.

Spoon half of the mixture over the ready-made pie crust.

Cover and chill remaining chocolate mixture.

Spoon the cherry pie filling evenly over the chocolate mixture in the pie crust; place the crust on a baking sheet.

In a bowl beat softened cream cheese with powdered sugar, egg and almond extract at medium speed using an electric mixer until smooth.

Pour the cream cheese mixture evenly over the cherry filling (the pie will be very full but shouldn't overflow when baked, but place the pie on a baking sheet anyway!).

Set oven to 350 degrees.

Bake for 25-30 minutes or until the center is set; remove from oven and cool to about room temperature.

Refrigerate for a minimum of 8 hours.

This next step with the cherries is optional, you can just drizzle the top of the cooled pie with melted chocolate and then dollop with whipped cream.

Place 16 maraschino cherries with the stems on paper towels; pat them dry.

Microwave the reserved chocolate mixture at MEDIUM for about 1 minute or until spreading consistency, stir until smooth.

Dip the cherries into the warmed chocolate mixture, then place on a baking sheet.

Chill the cherries for about 20 minutes (or longer).

Spread any remaining chocolate over the pie, then spoon 8 dollops of whipped cream (or Cool Whip topping) around the outer edges of the pie.

Place 2 chocolate-covered cherries on top of each dollop.

Delicious!