Oven-Barbecued Pork Roast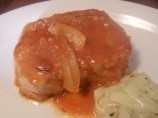 Photo by *Parsley*
Prep Time: 24 hrs
Total Time: 26 hrs
Servings: 6-8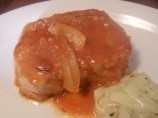 Photo by *Parsley*
About This Recipe
"This recipe can also be made in a crock pot! The cooking time is only estimated, it will vary slightly depending on the size and cut of your pork roast, I have made this using pork shoulder and it was really good. Plan ahead the roast needs to marinade for up to 24 hours. This is good served with French fries or roasted potatoes. If you are using a roast that is larger than 3 pounds you might want to double the sauce ingredients but keep the garlic and onion amounts the same."
Ingredients
1 (3 lb) boneless pork roast ( can use a 4-pound roast)

8 large garlic cloves ( sliced in half)

2 tablespoons seasoning salt

black pepper

1 teaspoon dried thyme ( or to taste)

1 large onion, sliced ( or use 2 medium onions)

2 tablespoons fresh minced garlic

2 teaspoons dried chili pepper flakes ( optional or to taste)

1/2 cup chicken broth

1/2 cup cider vinegar

1 (6 ounce) cans tomato paste

1/4 cup lemon juice

2 -4 tablespoons brown sugar

2 tablespoons Worcestershire sauce

1 tablespoon Dijon mustard

1/2 teaspoon paprika
Directions
Cut deep slits in the pork roast and insert garlic clove halves in each slit, then rub with seasoned salt and black pepper all over; place the roast in a large bowl or a shallow dish, cover with plastic wrap and refrigerate for a minimum of 8-24 hours.

In a large skillet saute the onion with minced garlic and dried chili flakes (if using) for about 5-6 minutes or until onion is tender.

Stir in the chicken broth with cider vinegar, tomato paste, lemon juice, brown sugar, Worcestershire sauce, Dijon mustard and paprika; bring to a boil, and boil for about 3-5 minutes, stirring constantly; remove from heat.

Place the roast in a large Dutch oven and pour the sauce over the roast.

Bake covered for about 2 hours (time will vary depending on the size and cut of the roast you are using).

Remove the roast from the Dutch oven and place on a carving board, cover loosley with foil and let sit for about 15 minutes before slicing.

Skim any accumulated fat off from on top of the sauce, and serve the sauce with the roast.

Delicious!