Tantalizing Thai Shrimp Pasta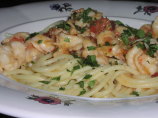 Photo by teresas
Prep Time: 30 mins
Total Time: 1 hr
Servings: 4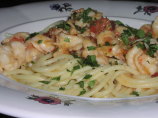 Photo by teresas
About This Recipe
"This delicious dish will look and taste like it is professionally done, but actually is so simple to make! The flavors are rich and delicate, like all great Thai cuisine. It is slightly sweet and slightly spicy, harmonizing wonderfully with the shrimp. Eat it by itself or serve it over your favorite pasta."
Ingredients
Marinade

1 tablespoon rice wine or 1 tablespoon dry sherry

1 teaspoon brown sugar

2 teaspoons soy sauce

1 green onion, washed and chopped

pepper, to taste

salt, to taste

Sauce

1/4 cup unsweetened coconut milk

2 tablespoons Chinese white rice vinegar ( OR white wine vinegar)

1 tablespoon honey

1/4 teaspoon crushed red pepper flakes

Other

1 tablespoon minced gingerroot ( OR 1 teasp. ground ginger)

1 cup chopped plum tomato

3 tablespoons oil, for stir-frying ( preferably wok oil)

1/4 teaspoon chili paste with garlic or 2 minced garlic cloves

1 1/2 tablespoons chopped fresh cilantro ( OR 1tsp. dry cilantro)

6 ounces thin whole wheat spaghetti
Directions
Rinse the shrimp under warm running water. Cut in half lengthwise. Add to the marinade ingredients and marinate the shrimp for 25 minutes in the refrigerator. Whisk together the coconut milk, vinegar, honey, and the crushed red pepper. Set aside. Prepare the ginger and tomatoes.

Heat the wok over medium-high to high heat. Add 2 tablespoons oil. When the oil is hot, add the shrimp. Stir-fry until they turn pink. Remove from the pan.

Add 1 tablespoon oil to the wok. When the oil is hot, add the minced ginger. Stir-fry until aromatic (about 30 seconds). If using ground ginger, simply mix it into the tomatoes and add the tomatoes to the wok. Stir-fry for 2 minutes. Add the sauce. When the sauce is bubbling, add the shrimp. Stir in the chili paste or garlic. Let simmer for 5 minutes.

Cook the pasta separately as directed. Serve over the cooked spaghetti or stir the cooked pasta right into the shrimp mixture. Garnish with cilantro and enjoy!