Fruit Chutney (Zwt - South Africa)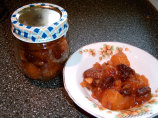 Photo by Outta Here
Prep Time: 45 mins
Total Time: 2 hrs 30 mins
Serves: 1, Yield: 1 3 lb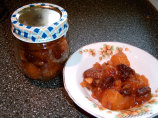 Photo by Outta Here
About This Recipe
"This recipe was entered for ZWT & has been modified slightly. My source is: http://africhef.com/Chutney-Recipe.html. The intro is short & sweet ... "This easy South African Fruit Chutney recipe is 1 of the simplest I've come across & is well worth the slight effort taken to prepare it." (Yield & times have been estimated. Times do not include standing overnight or waiting period to mature)"
Ingredients
1 lb brown sugar

1/2 lb dried pears

1/2 lb dried apricot

1/2 lb dates

1/2 lb dried apple ring

1/2 lb sultana

1 cup onion ( chopped)

4 cups water

3 garlic cloves ( crushed)

2 cups cider vinegar

1 teaspoon chili powder

1/2 teaspoon turmeric

1/2 teaspoon nutmeg ( freshly grated)

1/2 teaspoon ginger ( freshly ground)
Directions
Chop all dried fruit except the sultanas.

Place fruit & water in a lrg mixing bowl, cover & leave overnight.

Do not drain the fruit. Add the remaining ingredients & place in a heavy bottomed saucepan.

Simmer over low heat (stirring constantly) till the sugar has dissolved.

Bring to a boil & then lower heat. Allow to simmer (uncovered) for approx 1 1/2 hrs or till thick, stirring occ.

Pour chutney mixture into sterilized jars while still hot. Fill to ½ in below the top. Cover w/an airtight plastic lid. Do not use a metal lid because the action of the spices & vinegar will cause corrosion.

Leave the chutney to mature in a cool, dark, dry place for 6-8 weeks before use.

NOTE: This fruit chutney may be used in curries, almost any dish that has rice as an accompaniment & also to tasty up pasta dishes.