The Best (No Kidding) Buttermilk Pancakes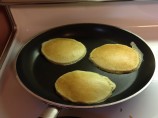 Photo by Chef #1803359962
Prep Time: 20 mins
Total Time: 40 mins
Yield: 20 pancakes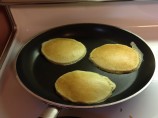 Photo by Chef #1803359962
About This Recipe
"I know there are a zillion pancake recipes already but I went thru and this one IS different and SO good. I think that mixing well, sifting the dry ingredients, and carefully folding in the egg whites makes these so very fluffy. And, wonder of wonders, you can freeze the batter, defrost in the fridge, and the pancakes are perfect. One more thing--you must use real maple syrup and you must warm it before serving it with the pancakes."
Ingredients
3 eggs, separated

1 2/3 cups buttermilk

1 teaspoon baking soda

2 teaspoons baking powder

1/2 teaspoon salt

1 1/2 cups flour

1 tablespoon sugar

3 tablespoons unsalted butter, melted
Directions
Beat the yolks until pale and smooth.

Beat in the buttermilk and then the baking soda and mix well.

Sift in the dry ingredients mixing as you add; make sure the batter is smooth.

Add in the melted butter and mix well.

Beat the egg whites in another bowl until stiff.

Fold into the batter until no bits of white are visible.

Let batter stand about 20 minutes before making pancakes.

Make sure your griddle is really hot (the old water droplet test).

Ladle batter onto griddle; turn when bubbles form across the cakes and allow to lightly brown on the second side.

Serve with warm maple syrup and sweet butter.