The Incredible Edible Flower Salad With Fresh Herbs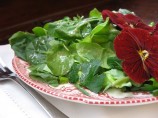 Photo by Ms B.
Prep Time: 15 mins
Total Time: 15 mins
Servings: 6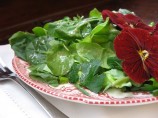 Photo by Ms B.
About This Recipe
"From Delicious Living! Make a colorful splash for your next get-together! For quicker preparation, use a bag of organic mixed greens."
Ingredients
Salad

1 small butterhead lettuce

1 cup baby arugula leaf

1 cup baby spinach leaves

1 cup watercress leaf

1/2 cup fresh basil leaf, loosely packed

1/2 cup fresh Italian parsley, chopped coarsely

1/2 cup sorrel ( or 1 cup purslane)

1/2 cup baby mustard greens or 1/2 cup collard greens

1/3 cup fresh chives, snipped

1/3 cup fresh chervil, snipped

2 tablespoons fresh dill, snipped

1/2-1 cup fresh edible flower ( read *NOTE)

Mustard-Dill Seed Vinaigrette

1/4 cup red wine vinegar

2 tablespoons extra virgin olive oil

1/2 tablespoon Dijon mustard

2 teaspoons honey

1/2 teaspoon dill seed, slightly crushed

1 garlic clove, finely minced

salt, to taste

cracked black pepper, to taste
Directions
*NOTE: Any of the following **UNSPRAYED/PESTICIDE-FREE** flowers will work in this recipe: nasturtiums, daylilies, pansies, borage, roses or the flowers from culinary herbs.

VINAIGRETTE: In a small, non-reactive bowl whisk together all salad dressing ingredients. Set aside. Best prepared 30 minutes to 1 hour in advance.

SALAD: Wash and *gently* pat dry the butterhead lettuce, all herbal greens and edible flowers.

Tear apart the butterhead lettuce and any large-leafed herbs.

In a pretty salad bowl, toss together all greens except for the flowers.

Pour the vinaigrette over the salad and toss gently to coat.

Garnish with the edible flowers and serve immediately.