Romano's Macaroni Grill Nachos Napoli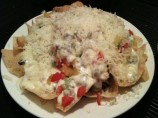 Photo by Lawsome
Prep Time: 15 mins
Total Time: 25 mins
Servings: 1-2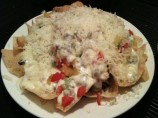 Photo by Lawsome
About This Recipe
"I love the ones at the restaurant, but they do not travel well as take out. Now I can have them whenever I want (which is not always a good thing!)"
Ingredients
7 ounces wonton wrappers ( about 1/3 a packet)

canola oil

1/3 cup fully cooked Italian sausage, crumbled

2 cups grated mozzarella cheese

1/2 cup fresh tomato, diced

1/4 cup sliced kalamata olives or 1/4 cup any black olives

1/4 cup chopped scallion

6 -8 slices banana peppers ( use as much or as little as you'd like, they are in the pickle section of the grocery store)

Asiago cream sauce

2 tablespoons cornstarch

2 tablespoons water

2 cups heavy whipping cream

1/2 teaspoon chicken bouillon granule

1 1/2 cups shredded asiago cheese
Directions
stack the wonton wrappers and slice into 3-4 sections lengthwise and then cut each strip 3 more times to make little rectangles or chips.

Deep fry in hot canola oil till light golden brown, drain on paper towels and set aside.

Cheese sauce:.

Mix cornstarch and water in a small bowl, then add granules; set aside.

In a sauce pan heat the cream.

Slowly add cornstarch mixture, mix till thick and slowly add in cheese.

Stir till cheese is totally melted and then turn heat to low and stir occasionally.

Place the chips on a plate and sprinkle with1/2 the mozzarella cheese.

Dot the top with about 2/3 c hot cheese sauce.

Sprinkle all other ingredients evenly over the top.

Sprinkle with as much remaining mozzarella cheese as desired.

Serve while hot.

Cheese sauce makes about 3 cups. Servings are for a meal, for an appetizer it would feed around 2-4 people.