Icy Lemon-Ginger Vodka Cocktails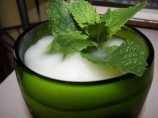 Photo by Baby Kato
Prep Time: 20 mins
Total Time: 4 hrs 20 mins
Yield: 8 drinks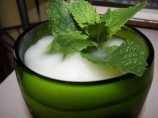 Photo by Baby Kato
About This Recipe
"These slushy, potent cocktails are easy to make in batches. They're also ideal for parties because most of the preparation can be done in advance. Thanks to Tyler Florence, TV Food Network!"
Ingredients
3 inches piece fresh ginger, peeled and thinly sliced

2 cups water

1 1/2 cups sugar

1 lemon, zest of, finely grated

1 cup fresh lemon juice

8 cups crushed ice

2 cups vodka

8 mint sprigs, for garnish
Directions
In a small saucepan, combine the sliced ginger with the water and sugar and bring to a simmer over moderate heat. Simmer for 5 minutes, then let the ginger syrup cool slightly. Transfer to a blender and puree. Strain the syrup into a large, shallow glass dish. Stir in the lemon zest and juice. Cover and freeze the lemon-ginger syrup until firm, at least 4 hours.

Let the frozen lemon-ginger mixture stand at room temperature for 5 minutes. Chop the mixture into large pieces. Put half of the pieces in a blender, add 4 cups of crushed ice and 1 cup of vodka and blend until slushy. Pour the vodka cocktail into 4 glasses, garnish each with a mint sprig and serve. Repeat with the remaining frozen lemon mixture, ice, vodka and mint sprigs. Serve at once.

MAKE AHEAD The lemon-ginger mixture can be frozen for up to 1 week.

NOTES

Cooking Club Tip: Peel ginger's thin and delicate skin by scraping down the root with a metal teaspoon. A spoon maneuvers around the nubs more easily than a pairing knife.