Mrs. Crenshaw's Pinto Beans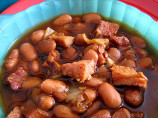 Photo by Annacia
Prep Time: 30 mins
Total Time: 13 hrs 30 mins
Servings: 4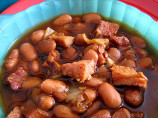 Photo by Annacia
About This Recipe
"I spent years trying to replicate my mother's pinto beans, but there was always something missing. I finally came across this recipe in a 1955 Texas cookbook and it's got to be where mom (a Texan) got the recipe. Oh, the missing ingredient, maple syrup! Time required includes soaking time for beans."
Ingredients
6 cups water

1 tablespoon vegetable bouillon granules

1/2 lb ham hocks or 1/2 lb leftover ham, - 2 inch cubes

2 cups pinto beans ( I presoak the beans)

1 medium onion, diced

1 garlic clove, crushed

2 1/2 tablespoons chili powder ( more if you prefer spicy)

1 tablespoon sugar

2 1/2 tablespoons maple syrup

1/2 teaspoon salt

1 diced jalapeno pepper ( adjust to taste) (optional)

1/2 cup finely chopped onion ( for garnish)

1/4 cup finely chopped cilantro ( for garnish)
Directions
Bring water and bouillon to boil.

Add beans, garlic, chili powder, sugar, maple syrup and salt.

Cover and simmer for 3 hours.

Add onion and ham.

Simmer additional 1 hour or until tender.

Add water as needed (in 1/2 cup increments).

When done, the broth should thicken and barely cover the beans.

Serve with garnishes and hot cornbread.