Southern Banana Praline Muffins (Healthy)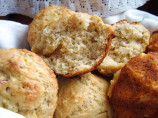 Photo by Annacia
Prep Time: 10 mins
Total Time: 25 mins
Servings: 8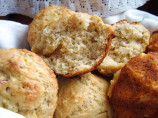 Photo by Annacia
About This Recipe
"I'm into banana recipes lately. I just got done making and eating one of these, and I knew I would have to sit down and share it. Right now, I'm anticipating tomorrow when I will have another one. This is another recipe by Joanna Lund. The diabetic exchanges per serving are: 1 1/2 Starch, 1/2 Fruit and 1/2 Fat. Each serving (muffin) is only 137 calories."
Ingredients
1 1/2 cups Bisquick reduced-fat baking mix

1/4 cup pecans, chopped ( 1 ounce)

2 tablespoons Splenda brown sugar blend

1/2 cup Splenda granular ( sugar substitute)

2/3 banana, ripe and mashed ( 2 medium)

1 egg ( or equivalent in egg substitute)

1/3 cup applesauce ( unsweetened)

1 teaspoon vanilla extract
Directions
Preheat oven to 400°F.

Spray 8 wells of a 12 hole muffin pan with butter-flavored cooking spray or line with paper lines.

In a large bowl, combine baking mix, pecans, brown sugar Splenda and the Splenda.

In a small bowl, combine bananas, egg, applesauce and vanilla extract.

Add banana mixture to baking mix mixture.

Mix gently just to combine.

Evenly spoon batter into prepared muffin wells.

Bake for 15-18 minutes or until a toothpick inserted in center comes out clean.

Place muffin pan on a wire rack and allow to cool for 10 minutes.

Remove muffins from pan and continue cooling on wire rack.

HINT: Fill unused muffin wells with water, it protects the muffin pan and ensures even baking.