Potato Salad for Those Who Don't Like Potato Salad (Aka Dillweed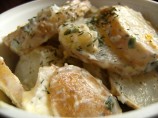 Photo by Lalaloula
Prep Time: 30 mins
Total Time: 3 hrs
Servings: 12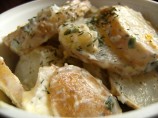 Photo by Lalaloula
About This Recipe
"My name for it says it all. This is what I grew up eating and is the only kind that I have ever tried and liked. My friend Steph always swore that she hated the stuff, too, till she tried this. Now she, and many others, are converts too. The original is made with full fat mayo and either whole milk yogurt or sour cream, but the light is just as good. Just remember to hard boil the eggs :-)"
Ingredients
7 medium potatoes

4 -5 hard-boiled eggs, chopped

1/2 cup salad oil

1/2 cup low-fat plain yogurt ( or light sour cream)

2 tablespoons vinegar

1/3 cup sliced green onion ( whole thing)

1 teaspoon salt

2 teaspoons chopped dill weed

1 dash pepper

3/4 cup diced celery

1 teaspoon onion powder

1 teaspoon garlic powder

1 cup light mayonnaise
Directions
Cook potatoes in water to cover; drain.

Peel; slice while warm.

Combine oil, vinegar, salt, pepper, garlic powder, and onion powder; blend thoroughly.

Pour 1/3 to 1/2 of the dressing over the potatoes. Let stand for at least 1 hour.

Add mayonnaise, eggs, sour cream, onions, dill weed and celery to remaining dressing; combine with potato mixture. Chill until ready to serve.