Carolina "red" Pulled Pork Shoulder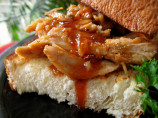 Photo by Caroline Cooks
Prep Time: 15 mins
Total Time: 5 hrs 15 mins
Servings: 10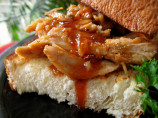 Photo by Caroline Cooks
About This Recipe
"From the Weber sight a recipe tweeked and want to make."
Ingredients
Rub

2 tablespoons pure chile powder

2 tablespoons paprika

2 tablespoons light brown sugar

1 tablespoon fresh ground black pepper

1 tablespoon kosher salt

2 teaspoons ground cumin

1 teaspoon garlic granules

1/2 teaspoon hot pepper flakes

1 (5 -6 lb) boneless pork shoulder, with a thin layer of exterior fat

3 cups hickory chips, soaked in water for at least 30 minutes

Sauce

3 cups apple cider vinegar

1 (14 ounce) bottles ketchup, about 2 cups

2 cups packed light brown sugar

1 tablespoon hot pepper sauce, to taste

2 teaspoons Worcestershire sauce

1 -2 chipotle chile in adobo, diced to taste

kosher salt

fresh ground black pepper

10 -12 hamburger buns

1 pint Coleslaw
Directions
In a small bowl mix the rub ingredients.

Coat the pork shoulder all over with the rub and press the spices into the meat. Allow the pork to stand at room temperature for 30 to 40 minutes before grilling.

Follow the grill's instruction for smoking with wood chips. With the lid closed, grill and smoke the pork, fat side up, over indirect low heat (250°F to 300°F) for about 1 hour. (Note: Smoke the pork for the first hour only.) Meanwhile, make the sauce.

In a heavy-bottom saucepan, whisk together the sauce ingredients. Bring to a boil over high heat, reduce the heat, and let simmer for about 25 minutes. Season to taste with salt and pepper, and, if desired, add extra hot pepper sauce.

After the pork has been grilling for 1 hour, baste it with the sauce and continue to baste every 30 minutes. Continue grilling until the temperature at the center of the meat registers 180°F When it is done, the meat should be tender enough to tear with your fingers. The total grilling time will be 5 to 6 hours.

Transfer the pork shoulder to a baking sheet, brush liberally with some remaining sauce, and tightly cover with aluminum foil. Let the pork rest for 30 minutes before serving.

To serve, pull the warm meat apart with your fingers or two forks and shred into pieces. Discard any large pieces of fat. Pile the seasoned pork on hamburger buns along with your favorite coleslaw and a generous amount of sauce.