Sweet and Sour Mango Chicken S-C-J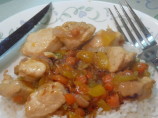 Photo by BLUE ROSE
Prep Time: 10 mins
Total Time: 40 mins
Servings: 4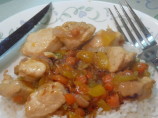 Photo by BLUE ROSE
About This Recipe
"This was originally for shrimp, but I don't like seafood so I changed it. Site quote: "I stopped ordering sweet and sour dishes at my favorite Chinese restaurant when I discovered the calorie count was over the top. So I was delighted when Chef James Brockman helped me whip up this lighter version using mangoes—a delicious, low-cal fruit that is rich in nutrition, packed with beta-carotene and excellent in aiding digestion. Pair it with our Sesame Garlic Broccoli and serve over your favorite rice. Jasmine rice, found in most grocery stores, is very aromatic and goes perfectly with this dish.""
Ingredients
29.58 ml vegetable oil

1 small red onion, sliced on the bias ( or 1/2 cup)

236.59 ml sliced mushrooms

236.59 ml thinly sliced carrot

78.07 ml scallion, sliced 1/2 inch long

236.59 ml thinly sliced celery

236.59 ml thinly sliced red bell pepper

680.38 g bite sized chunks chicken meat

4.92 ml salt

177.44 ml diced mango

1 (141.74 g) can sliced water chestnuts, drained

118.29 ml sweet and sour sauce
Directions
In a large skillet, heat the vegetable oil until hot.

Add onion and sauté for 1 minute.

Add the mushrooms, carrots, scallions, celery, and bell pepper.

Sauté for 3 minutes.

Add the chicken and salt, cook for 6-8 minutes until the chicken is done, no pink juices.

Add the mango, water chestnuts and Sweet and Sour Sauce.

Continue to cook for 1 minute until hot.

Serve over rice.

TIP:.

If you would like this dish juicier so it soaks into the rice, use more than 1/2 cup of the Sweet and Sour Sauce.

Or, make extra sauce and serve it as a dip for fresh vegetables or chicken fingers.