Pressure Cooker Hungarian Chicken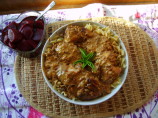 Photo by Chabear01
Prep Time: 30 mins
Total Time: 1 hr
Servings: 4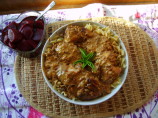 Photo by Chabear01
About This Recipe
"I adapted this recipe from "The Pressure Cooker Gourmet", by Victoria Wise. You can substitute any kind of chicken pieces, bone-in or boneless. You would just need to adjust cooking time based on your choice. I actually leave the skin on, I'm weird and kind of like the skin, even when its "soggy"!"
Ingredients
14.79 ml vegetable oil

1587.57-1814.36 g chicken leg quarters, bone-in and skinned

1 small onion, finely chopped

9.85 ml hot paprika, preferably Hungarian

118.29 ml chicken broth

1 medium tomatoes, peeled and coarsely chopped

4.92 ml salt

118.29 ml sour cream

170.09 g extra- wide egg noodles, cooked, drained and buttered
Directions
Heat the oil in the pressure cooker over medium-high heat until beginning to smoke. Add the chicken pieces and cook until golden all around, 4 - 5 minutes. Transfer to a plate.

Add the onion, paprika, and broth and stir to mix. Return the chicken to the pot and add the tomato on top, but don't stir it. Add the salt.

Lock on the lid and bring to pressure over high heat, 4 - 5 minutes. Reduce the heat to medium and cook for 7 minutes. Remove from the heat and let sit for 5 minutes to finish cooking.

With steam vent pointed away from you face, gently release any remaining pressure and transfer the chicken to a plate. Set aside in a warm place while the liquid cooks in the pot for 15 minutes.

Whisk the sour cream in a small bowl until smooth. Add 1/4 cup of the liquid from the pot and whisk until smooth. Pour the sour cream mixture into the pot and whisk to mix. Return the chicken pieces and any juices to the pot. Reheat briefly without boiling.

Spread the warm egg noodles on a serving platter. Arrange the chicken over the noodles and pour the sauce over all.