White Rice Pilaf With Corn, Roasted Chiles and Fresh Cheese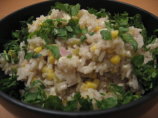 Photo by Engrossed
Prep Time: 30 mins
Total Time: 1 hr
Servings: 5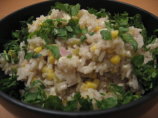 Photo by Engrossed
About This Recipe
"Queso Fresco (fresh Mexican cheese) is called for in this recipe but you can substitute Feta or any fresh cheese like Farmers, etc. This would make a nice main course as well with a salad"
Ingredients
1 1/2 tablespoons vegetable oil

1 cup long-grain rice

1 onion, finely diced

1 3/4 cups chicken broth

3 medium fresh poblano chiles

1 cup thawed frozen corn

1/2 cup queso fresco or 1/2 cup feta

watercress (to garnish) or parsley sprig ( to garnish)
Directions
Roast,peel,remove seeds and slice the poblano chiles into short thin strips.

Start the rice about 40 minutes before you want serve.

Combine the oil, rice, and onion in a 2 quart saucepan over medium heat. Stir frequently for about 7 minutes until the onion is translucent but not browned.

Add the broth to the rice mixture along with the chiles and corn, stir well, scrape down the side so the pan, cove and simmer over medium-low heat for 15 minutes>.

When the rice has cooked 15 minutes, let it stand off the fire, covered for 5 to 10 minutes until the grains are tender.

Add the crumbled cheese and toss the with a fork to incorporate the ingredients and stop the cooking. Scoop into a serving bowl and garnish with the watercress or parsley and serve.