Princesses (Bulgarian Ground Meat Sandwiches)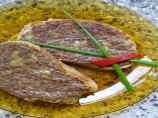 Photo by Nelka
Prep Time: 10 mins
Total Time: 20 mins
Yield: 10 sandwiches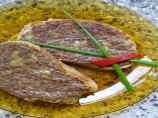 Photo by Nelka
About This Recipe
"This is an extremely popular snack food here. Lately it is becoming less popular in cafeterias but it is still a favorite at almost any home. Feel free to alter the condiments but keep the pepper, the onions and the cumin. You could also grate some cheese on top, or add it to the meat mixture."
Ingredients
1 lb ground beef or 1 lb pork

1 large egg

1 onion, chopped

1 tablespoon dried thyme or 1 tablespoon oregano or 1 tablespoon savory

salt

ground black pepper

ground cumin

ground coriander

ground ginger

10 slices bread
Directions
Combine ground beef, egg, onion, thyme, black pepper, cumin, coriander, and ginger in a bowl; knead well.

Mixture should be soft enough to spread. If it is not, add an extra egg. In this recipe too soft is better than too thick.

Spread the mixture over the bread slices.

Place in an oven at medium to high heat.

Bake for 5 to 10 minutes or until meat is golden and cooked through.