Shredded Chicken for Enchiladas, Tostadas, Tacos...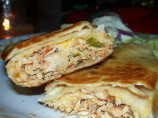 Photo by Marsha D.
Prep Time: 15 mins
Total Time: 45 mins
Servings: 10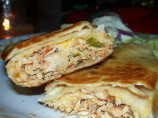 Photo by Marsha D.
About This Recipe
"This is an authentic filling used for Mexican dishes such as: enchiladas, tostadas and tacos. You can easily double the recipe, as it freezes well. I always have some on hand in the freezer. Use this in place of plain shredded chicken; and it will kick an average Mexican recipe up a notch (IMHO). COOK'S NOTES: 1 whole frying chicken, giblets and excess fat removed, can be used instead of boneless chicken breasts."
Ingredients
4 boneless chicken breast halves

1/2 medium onion, sliced

2 garlic cloves, smashed

1 tablespoon salt

water

2 tablespoons butter

1 garlic clove, minced

1/2 medium onion, chopped

1 medium tomatoes, seeded and chopped

1/2 green bell pepper, chopped

1 teaspoon fresh coarse ground black pepper

1 teaspoon marjoram

1/4 cup cilantro, chopped ( or to taste)

1 1/2 teaspoons ground cumin

2 tablespoons tomato sauce

1 1/2 teaspoons salt ( to taste)

1/2 cup chicken broth ( reserved)
Directions
Place first four ingredients in a pot. Add just enough water to cover the chicken.

Bring to a slow boil, cover, lower heat to maintain a simmer and cook until done, about 20 - 25 minutes. If using a whole chicken; cook approximately 50 - 60 minutes.

Remove chicken from pot, let cool and shred. (I cool my chicken in the refrigerator to be safe) If using a whole chicken; remove meat from bones and shred. Reserve broth.

In a large pan, melt butter over low heat.

Add the remaining ingredients listed, except tomato sauce, salt, and broth.

Sauté until soft, about 10 minutes.

Stir in shredded chicken and briefly sauté.

Add tomato sauce and ½ cup of reserved broth.

Salt to taste.