Green Gazpacho (Posted for Zwt II)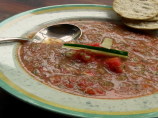 Photo by Andi of Longmeadow Farm
Prep Time: 15 mins
Total Time: 15 mins
Servings: 4-5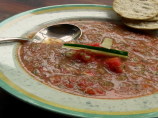 Photo by Andi of Longmeadow Farm
About This Recipe
"Occasionally you stumble across the most amazing things when you're not even looking for them. I was looking for a Canadian dish for ZWT II, tripped over a bump called "The New Enchanted Broccoli Forest" cookbook by Mollie Katzen & fell face-down in a bowl of this soup. I gotta tell ya ... this looks so good to me, is 1 of the easiest recipes I've ever found, is definitely in the basement of the "evil calorie house" & has my much cherished Tex-Mex thing goin on too! I can hardly wait to try this! ... Per the recipe, "Showcase those underipe tomatoes in this delicious & gloriously colored Mexican variation on a Spanish theme. If you can't find green tomatoes, use the least ripe ones available." (Stated time does not include chilling time)"
Ingredients
3 green tomatoes ( 3-in diameter, cored & chopped)

1 medium green bell pepper ( chopped)

1 medium cucumber ( 7-in, peeled, seeded & chopped)

parsley ( A "handfull" per recipe)

cilantro ( A "handfull" per recipe)

1/4 cup lime juice ( fresh, about 2 juicy limes)

1 medium avocado ( 4-in, peeled, pitted & diced)

1 medium garlic clove ( minced)

1 teaspoon salt

1 teaspoon ground cumin

1 -2 tablespoon olive oil ( extra virgin)

1 tablespoon red wine vinegar

1 teaspoon honey ( or sugar)

1 cup cold water

black pepper ( to taste)

cayenne pepper ( to taste)

tortilla chips ( optional garnish)
Directions
Combine all ingredients in a lrg bowl & stir well to get a good distributional mix.

Purée the mixture in a blender or food proc till reasonably smooth (doesn't have to be perfect).

Transfer to a container w/a lid & chill till very cold (Keeps well for dys if tightly covered & refrigerated).

Serve plain or topped w/a tortilla chips garnish. (NOTES: Lime slices would also be very nice visually as an opt garnish.).