Roti De Porc Au Lait - Pork Loin With Whole Milk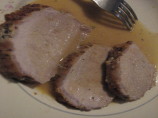 Photo by Elmotoo
Prep Time: 10 mins
Total Time: 1 hr 40 mins
Servings: 6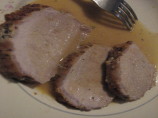 Photo by Elmotoo
About This Recipe
"This is a French classic that is a perfect comfort food, inspiration taken from Anthony Bourdain's Les Halles Cookbook."
Ingredients
3 lbs boneless pork loin roast

2 teaspoons salt

2 teaspoons pepper

2 tablespoons olive oil

1 tablespoon butter

1 medium onion, chopped

1 large carrot, finely chopped

1 large leek, finely chopped ( white part only)

1 garlic clove, minced

1 tablespoon flour

2 cups whole milk

1 sprig parsley

2 sprigs fresh thyme

1 bay leaf
Directions
Tie parsley, thyme, and bay leaf together to make a bouquet garni.

Season the pork with salt and pepper.

Heat the oil in a Dutch oven over medium-high heat, and add the butter. Brown the roast on all sides (6 to 7 minutes total).

Remove roast from pan and set aside. Add onion, carrot, leak, and garlic to pan and stir over high heat until soft (10 minutes or so).

Add the flour stirring constantly and cook for 2 minutes, then slowly add the milk and bouquet garni and bring to a boil.

Let simmer for 5 minutes then add the roast. Cover and cook over low heat for 1 hour making sure to rotate the pork every 15-20 minutes to prevent scorching. Remove the pork and let rest for 10-15 minutes.

While the pork is resting, remove the bouquet garni, and strain the cooking liquid into a small pot and bring to a boil. Using a hand blender or food processor, puree the sauce until foamy, and adjust seasoning to taste with salt & pepper.

Carve the roast and spoon sauce over and around.