Chicken & Broccoli Casserole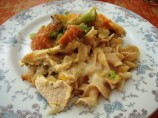 Photo by Maryland Jim
Prep Time: 20 mins
Total Time: 40 mins
Servings: 6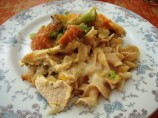 Photo by Maryland Jim
About This Recipe
"Prepare this casserole in advance , wrap tightly, and freeze for up to 3 months. Just defrost in the fridge overnight and bake the next day at 375 degrees for 30 minutes or so."
Ingredients
1 medium onion, chopped

3 tablespoons butter or 3 tablespoons margarine

1/4 cup all-purpose flour

1 1/2 cups chicken broth

3/4 cup milk

salt and pepper, to taste

6 ounces wide egg noodles

5 cups cooked chicken, shredded ( about 1 1/2#)

1 (10 ounce) packages frozen broccoli or 1 (10 ounce) packages italian style frozen mixed vegetables, thawed

2 cups muenster cheese, shredded
Directions
Preheat oven to 400 degrees.

Grease a medium sized casserole dish, set aside.

Saute onion in butter for about 3 minutes.

Mix in flour.

Gradually stir in broth, combining well.

Gradually add milk to the saucepan, and cook stirring constantly until thickened, about 5 minutes.

Stir in salt and pepper.

Remove from heat.

Bring 2 quarts of water to a boil.

Add egg noodles, and cook for 6 minutes.

Drain noodles well.

Spread noodles in the prepared baking dish.

Place chicken and broccoli over noodles.

Pour the sauce over the chicken and broccoli.

Sprinkle the cheese over the top.

Bake for 20 minutes, or until the cheese is nicely melted.