Chicken Enchiladas With Tomatillo Sauce (Enchiladas Verdes)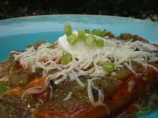 Photo by breezermom
Prep Time: 0 mins
Total Time: 50 mins
Servings: 6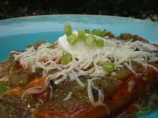 Photo by breezermom
About This Recipe
"From Goya's "Taste of the Americas: Mexico" booklet, enchiladas (Mexico's comfort food) are made with an authentic green tomatillo sauce. Some changes were made for simplicity or variations."
Ingredients
Chicken filling

2 lbs boneless skinless chicken breasts

adobo seasoning, to taste

1/2 white onion, chopped

4 garlic cloves, minced

1/3 cup sour cream

Sauce

3 serrano chilies

2 (26 ounce) cans whole tomatillos, drained

3 garlic cloves, minced

1/2 cup white onion, chopped

3 tablespoons cilantro

1 tablespoon vegetable oil

1 teaspoon adobo seasoning

Enchiladas

12 corn tortillas or 12 flour tortillas

1 cup sour cream

1/2 white onion, diced

1 cup queso fresco or 1 cup monterey jack cheese
Directions
Season chicken with adobo. Place chicken, onion, garlic in saucepan with enough water to cover. Bring to a boil, reduce heat to medium, cover and simmer for 20-25 minutes. Remove from heat and let chicken cook in broth. Shred chicken meat, approximately 4 cups. Mix with sour cream.

Put chilies in saucepan with enough water to cover, bring to a boil, lower heat and simmer for 10 minutes. In batches, puree chilies, tomatillos, garlic, onion and cilantro in blender until smooth.

In skillet on medium-high heat, heat oil until it starts to smoke. Add tomatillo sauce and cook, stirring constantly. When sauce begins to bubble, lower heat and cook for 5 minutes until noticeably darker and thicker. Season sauce with Adobo. There should be about 3 cups of sauce. If needed, stir in chicken broth.

Heat oven to 350°F.

Using your fingers, dip each tortilla briefly in sauce, covering both sides. Place on plate, spread on large spoonful of filling and roll up. Place seem side down in baking dish and repeat for each enchilada. Cover with remaining sauce, cover with foil and heat in oven for 10 minutes or until enchiladas are heated through. Top with sour cream, onions and cheese. Serve immediately.