Kittencal's Red Enchilada or Taco Sauce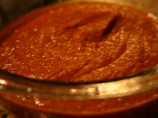 Photo by KPD
Prep Time: 5 mins
Total Time: 25 mins
Servings: 6-8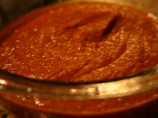 Photo by KPD
About This Recipe
"I strongly suggest to make this sauce a day ahead and refrigerate as the flavors will blend together even more, and I advise that you double amounts if you are using it for enchiladas, what you do not use may be frozen for later use, this sauce freezes very well, in fact I most always make more to have handy in my freezer --- this makes a fantastic sauce for tacos or enchiladas it is the only one that I use I never purchase bottled this is much better --- the sour cream is only optional add in for a creamy-style sauce :)"
Ingredients
3 -4 tablespoons olive oil

1 small onion, finely chopped

1 teaspoon dried red pepper flakes ( or to taste)

1/2 teaspoon dried oregano

3 -5 teaspoons chili powder ( or to taste)

1/2 teaspoon dried basil

2 -4 teaspoons cumin ( can use more to taste)

1 tablespoon fresh minced garlic ( or to taste)

1/3-1/2 cup salsa

1 cup tomato sauce ( or use crushed tomatoes)

1 cup beef broth or 1 cup water mixed with beef bouillon powder or 1 cup just use water

1 teaspoon seasoning salt (or to taste) or 1 teaspoon white salt ( or to taste)

1 teaspoon ground pepper ( or to taste)

1/2 cup sour cream ( optional, add in for a creamy sauce, can use more to taste)
Directions
Heat oil in a medium saucepan over medium heat; add in onion, red pepper flakes, oregano, basil, chili powder and cumin and saute for 3 minutes.

Add in fresh garlic and saute for 2 minutes.

Add in salsa, tomato sauce and beef broth or water; mix with a spoon to combine.

Reduce heat to low and simmer uncovered stirring occasionally for 30-40 minutes or until reduced slightly.

Adjust all spices to taste then season with seasoned salt and pepper to taste.

Mix in sour cream if using and heat through (do not allow to boil).

OPTIONAL: you may cool the mixture then process on a food processor or a blender for a smoother texture.