Grilled Goat Cheese Sandwiches With Fig and Honey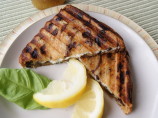 Photo by CaliforniaJan
Prep Time: 6 mins
Total Time: 18 mins
Servings: 4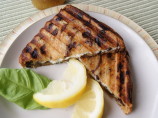 Photo by CaliforniaJan
About This Recipe
"These are just as good for breakfast as they are for supper! Mixing honey with the goat cheese mades it easy to spread on the cinnamon raisin bread. Adapted from Cooking Light magazine(June 2004). An African/Middle Eastern influenced recipe."
Ingredients
2 teaspoons honey

1/4 teaspoon grated lemon rind

4 ounces goat cheese

8 slices cinnamon raisin bread

2 tablespoons fig preserves

2 teaspoons basil, thinly sliced

1 tablespoon margarine, to coat bread ( or cooking spray)

1 teaspoon powdered sugar
Directions
Combine honey, lemon rind, and goat cheese, stirring till blended. Spread 1 tbls. goat cheese mixture on each of 4 bread slices; top each slice with 1 1/2 teaspoons preserves and 1/2 teaspoons basil. Top with remaining bread slices. Lightly coat oustide of each sandwich with margarine or cooking spray.

Heat a large nonstick skillet over medium heat. Add 2 sandwiches to the pan. Place a weight(cast iron or heavy skillet) on top of sandwiches; press gently to flatten. Cookk 3 minutes on each side, or until bread is lightly toasted, leaving pan on top of sandwiches as they cook.

Repeat with remaining sandwiches. Sprinkle with powdered sugar.

Makes 4 sandwiches.